THALAC
the network dedicated to Institutes and Spas
Laboratoires SICOBEL have been going alongside beauty institutes and spas for over 30 years and have developed unique cares protocol combining manual method technicity and marine cosmetics efficiency.

A MARKETING TEAM COMMITTED TO THEIR CLIENTS, IN A MUTUAL TRUSTING RELATION
Beauty institutes and spas are not like other businesses. Clients go there for a beauty treatment and leave with renewed confidence. This is the magic of the estheticians.
Their hands massage, caress, and comfort. And what the estheticians do for their clients – commitment and generosity – each of our THALAC sales representatives wishes to give back to them. Based on proximity, listening and trust, this qualitative relationship favors a mutually profitable collaboration.
BEAUTY SPECIALISTS, SALES REPRESENTATIVES AND TRAINERS
All THALAC representatives are qualified estheticians and are both trainers and sales associates. This global approach, allowing estheticians to have a unique interlocutor, aims at bringing comfort and efficiency.
All the growth levers of Beauty Salons and Spas are covered: training in treatment protocols, training in cabin products and sales, training in product sales, merchandising advice, advice on pricing and promotional policies. Our advantage? Customized training, on site, allowing estheticians and their teams to save time and energy.
FLEXIBLE MARKETING CONDITIONS WITHOUT CONSTRAINTS
Because a commercial relationship is built over time, we do not impose a minimum number of orders and ensure that the volume of orders is adapted to the institute's potential.
ADAPTED TOOLS TO BOOST SALES
In order to support estheticians, a wide range of tools is offered: a training manual with a step-by-step description of our cabin treatment protocols, posters, display panels, kakemonos, shelf stoppers, merchandising plan, margin calculation table for each protocol, price recommendations for treatments and products, promotional actions, samples, testers, treatment equipment, etc.
EVENT DAYS PROMOTING EXCHANGES BETWEEN THALAC ESTHETICIANS AND OUR LABS
These days organization in region reunite our clients and our labs teams: sales, customer service, marketing, R&D, general management. Each time, it is a privileged moment, favoring the exchange of good practices, ideas for new products and protocols, and also a time for sharing the Thalac culture: sea energy, technicality, efficiency and naturalness
With our strong expertise in natural, organic and committed brands, our Laboratoires Sicobel support the development of Beauty Institutes and Spas with a complete offer, meeting the expectations of a demanding clientele in search of innovation, technicality and efficiency.
THALAC
Sea skincare concentrate
THALAC transmits to estheticians a know-how combining the expertise of thalassotherapy and physical therapy through exclusively manual protocols for the face and body. Beyond its performance and effectiveness, each THALAC treatment offers a unique sensory experience.
THALAC BIO
Natural beauty concentrate
THALAC Bio offers beauty salons high quality products to enhance the natural beauty of the skin. Organic and formulated in France, each product contains plant, flower and fruit extracts from nature.
ACS PEN
A revolutionary procedure for beauty institutes, the ACS-PEN Micro-needling is a micro-needling device that improves the skin appearance by stimulating and accelerating epidermal cell renewal in a natural way.
VITA LIBERATA
Vita Liberata naturally enhances the skin complexion with a complete range of self-tanners with innovative, organic, natural and vegan formulas. Vita Liberata self-tanners offer a healthy tan that fades easily, without marks, without demarcation, and without odor.
Les Secrets de Louise
Discover the French elegance and authenticity. Give in to the fragrances created by our French perfumers. Available in 12 eaux de toilettes with fruity, floral, sour and sweet notes, for each personality and each desire!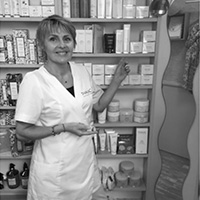 « I discovered THALAC, 11 years ago; I wanted to stand out and THALAC immediately appealed to me and inspired me…. thalasso, the sea, blue, well-being and the proximity of our brands Thalie/Thalac…
To this day, I was able to build a customer loyalty with some range products, such as the active wrinkle caviar, the antiaging calcium and the star product: the cc cream that I love!
Since the beginning, relations with the Thalac team are very positive and it is with that mindset that Hayat, my sales representative, took over: always ready to listen, sharing ideas, knowledges, and her good mood!
THALAC's advantage ? Flexible condition: no exclusivity, nor minimum order.
Thank YOU for giving us the necessary means to develop!»
Nathalie Marty
Beauty wellbeingThalie Institute (Belveze du Raze, Aude)
Discover THALAC's website